---
---
---
DUFFA Manchester Ultimate Frisbee Hat Tournament 2022
---
DUFFA Manchester Hat takes place over 27th and 28th of August 2022. It's a mixed (loose!), 7-aside, grass tournament with full sized Ultimate pitches. Location at
Whythenshawe Sports Ground
M23 0BD
Player's Pack
---
Player packs will be sent out to all players closer to the time, and these will contain everything you need to know for the weekend.
Alternatively, please feel free to email us at hat@duffa.org and we will do our best to help you.
What is a Hat Tournament?
---
In a Hat tournament, players sign up individually, rather than as part of a team. Each player is then assigned to a team made of people he or she probably doesn't know. In theory, the names are pulled out of a hat, (thus "Hat Tournament") but in actual practice, the teams will be balanced as closely as possible based on each player's self-ranking. Each team will have players of all fitness and experience levels.
Hat tournaments are a great way for new players to play with seasoned veterans, and a great way for everybody to relax and have fun playing the game. Meeting new friends and socialising is what it's all about.
DUFFA Manchester Hat Tournament Structure
---
At DUFFA Hat, 288 players will be assigned to 24 teams with a 7/6 Male to Female ratio. Each team will have its own t-shirts, so no bibs or shirt-swapping should be necessary. Each team will play in a pool of teams, and then the teams ranked to advance to a set of finals. Everybody will be able to play at least 6 games over the weekend. The games are in one-hour slots, so each game will have a 50 minute soft cap and a 55 minute hard cap. Every team will have at least one hour break for lunch.
What is Included?
---
DUFFA Hat 2022 is our 12th event and if we do say so ourselves, we put on one heck of a show! The reason DUFFA Hat is the best Hat Tournament in the world is simple. We're a non-profit event run entirely by volunteers. We do it because we love it!

We promise you DUFFA Hat 2022 will be another amazing event. Full details are still to be confirmed but here's what you'll likely get for your tournament fee…

- Two days of awesome spirited ultimate – at least six 55-minute matches!
- DUFFA Hat 2022 athletic shirt unique to your team!
- Free meal on Saturday evening!
- Saturday night themed fancy dress party with FREE 3-pint challenge!
- Sideline games and team challenges!
- Free camping!
- More prizes than you can shake a stick at!

All for only £50!
Ultimate Rules
---
The Tournament will use the latest edition of the World Flying Disc federation rules with some minor tweaks to help the tournament run smoothly.
Refreshments
---
Friday night we'll be having a few cheeky warm up drinks over early registration. Past years have also included beginner's sessions before it gets dark and some karaoke!
Registration is from 8.30 am Saturday with the first game starting at 10 am. Please try and arrive early to signup and meet your team!
Saturday night the party marquee and bar will be open until late, where we'll be hosting our infamous themed fancy dress party! There are prizes for the best dressed - effort is
strongly
recommended!
Sunday games will start at 9 am and continue through the day. The final is scheduled at 4 pm - with the awards cememony at 5 pm.
Registration & Player Rating
---
Hat Tournaments are based on player's being honest about rating themselves. We review all ratings (and change them if necessary) - players that rate themselves lowly to gain a team advantage aren't welcome at DUFFA Hat and will hit the black list and not be welcome in future years!
Here is the rating system that we use for Ultimate ability:
1) Never Played Never played Ultimate before? Total beginners are more than welcome to DUFFA Hat! We're running skills session over the weekend so you can learn!
2) Beginner Essentially no experience. You may know what Ultimate is and you may have even played couple of times, but you are still learning to throw.
3) Improver You have played Ultimate a fair bit, and you understand the rules and basic strategy. You can throw both a forehand and a backhand - not always the most accurate. What's a zone?
4) Intermediate The finer points of the game are a mystery. There is room for improvement but your throws are reasonably reliable and you occasionally score points in the endzones
5) Experienced You understand the basic strategies of the game. You can throw a long hucks and/or occasionally setup points.
6) Advanced If a team pulls a zone defence you know what to do and can help explain it to others on your team.
7) Intermediate Tour Level You have experience playing at top tournaments with your club team. In the UK this equates to Tour A/B Level
8) Advanced Tour Level You play, or have played, at a high level for over a year. You are usually on the first team.
9) Ex or Current GB / International You've played for your national side. DUFFA Hat is nice tournament but you're pretty good - right? No shame in chosing this option - all welcome, come teach our beginners!
Fitness - we also ask you to rate your fitness:
1 = Tortoise / bad injury
2 = Can run but tire easily
3 = Not bad but have a niggle injury
4 = Working on it!
5 = Fairly fit
6 = Jogging for 40 mins no problem
7 = Will still be sprinting in the final game
8 = You run 10k just to get the paper
9 = Bastard son of Daley Thompson
DUFFA Hat Registration FAQs
---
Q: How long is registration open for?
A: Registration opens at 19:00 GMT on Monday. 6th June. All registrations received before 23:59 GMT on Sun. 26th June will be entered into the weighted lottery. If you are an overseas player, you will have a guaranteed spot! All registrations received after the closing date will be placed on the waiting list.
Q: What are the quotas for the weighted lottery - can you please supply the details?
A: It will be fairer for everyone if you all just register honestly and trust us on this one. Anyone who has been to DUFFA Hat knows that we always try to make things as fair as possible.
Q: How can I improve my chances of getting a space?
A: Be honest! We review all player ratings and we reward honesty. There's also a space on the registration form for you to tell us in under 250 words why you should get a space. If you want you can add YouTube links, offers of bribes or just basic pleading!
Q: I want to come with my friends - will it affect my chances?
A: Signing up as a group will probably IMPROVE your chances... that said solo-registrations won't be penalised either, just be honest! Please note - on the initial registration ONLY the lead player will receive a confirmation email. We'll advise each player separately after this.
Q: I'm planning a holiday / my wedding / children around this - when will I know?
A: We'll try to complete the admin by Sunday 26th June - having said that we often get drop outs so spaces may be offered any time up to the tournament! Please note any flight booking requirements or similar in your signup notes.
Q: But I've been every year since 2008 / I've never been... I MUST get a space!
A: Tell us this in the registration notes... we might take it into account!
Q: When will I know if I have a space?
A: After we close registration we hope to start sending out the first offers of spaces, we aim to have this complete by Sunday 26th June. After this point everyone else joins the waiting list and will be offered spaces where people fail to pay in time or drop out of the tournament.
Q: If I get offered a space what happens then?
A: We'll send you instructions on how to transfer the registration fees if you're offered a space, and you will have two weeks to pay. If you need more time for a Student Loan or wages please email us straight back and we may be able to hold the space for you. If you're going on holiday or won't be able to check your emails between registration and the payment deadline please let us know in the registration notes.
Q: What information do you need for the registration?
A: It's pretty basic stuff - there is a rating system which we'd ask you to read carefully - if you like there is a screenshot of the 2014 form below.
Q: How many players can register as a group?
A: Five.
Q: What is on the registration form?
On go on then - here's a screen shot

---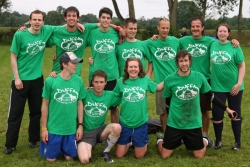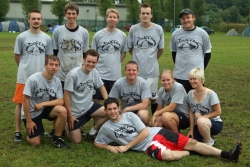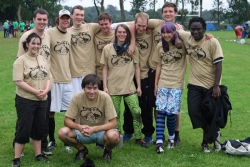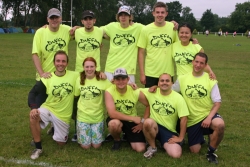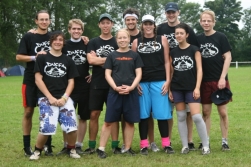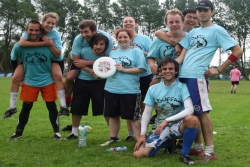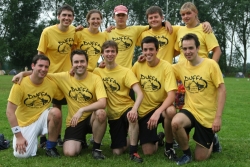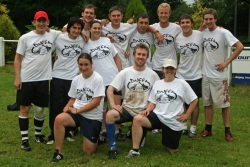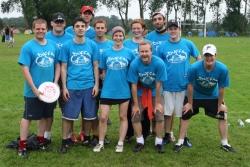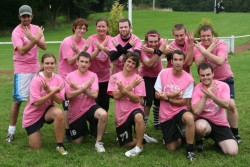 DUFFA are proud to wear kit provided by:
DUFFA are proud to wear kit provided by:
---